Condition Based Maintenance (CBM)
Condition based maintenance for your machinery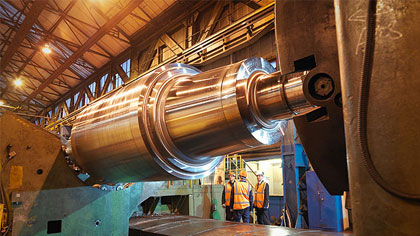 Huge machinery, heavy equipment, factories, plants, industries, mills, generators, pressure vessels, turbines, reactors, pumps run under very exacting, demanding conditions, exposed to constant high pressures, temperatures and other harmful factors, including water contamination, corrosion, glycol ingress, soot formation, raw fuel, and air ingested particles.
ATLAS helps the clients with its Condition Based Maintenance (CBM) oil and lubrication program which allows maintenance to be scheduled efficiently, minimising the risk of damage to expensive plants and avoiding unscheduled downtime and maintenance, helping productivity and avoid costly repair or shutdowns.
Hence – ATLAS – provides a comprehensive state-of-the-art Oil Analysis & Lubricant Testing Services. The objective is two-fold, to spot any potential problems before they cause catastrophic failure; and to retain the oil as long as it is serviceable.
By using ATLAS to routinely check the physical and chemical characteristics and test the condition of your lubricating oils, you receive valuable a comprehensive report on the condition of the lubricating oil and the operating health of their machinery. We develop individual testing programs to meet your needs and ensure sample collection, shipping, testing and reporting is quick, efficient and cost-effective.
We can provide you sample bottles, labels and outer boxes which are inexpensive easy-to-use kits. Samples can then be mailed to our laboratories, with routine turnaround within 12 to 24 hours of receipt of the sample.
Using Condition Based Maintenance (CBM), oil and lubrication analysis and testing program from ATLAS will help you in a significant reduction of operating costs.